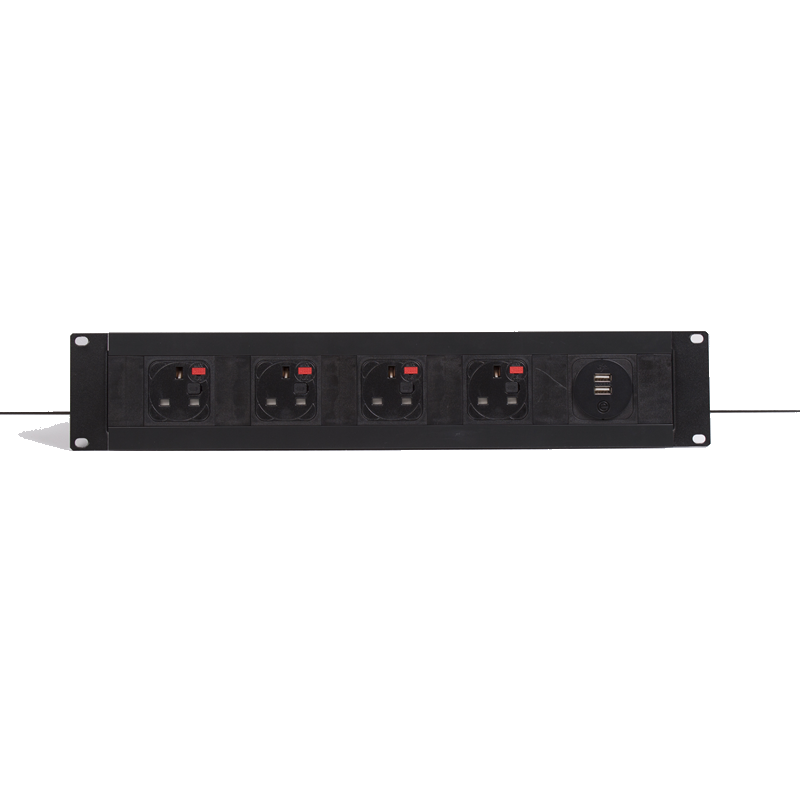 Rackbox Unit
OE Electrics
SP-OEE-RAC
The Rackbox, manufactured by OE Electrics, our current stock is configured as follows:
4 x UK 13A sockets; 1 x Twin Fastcharge USB
Other configurations are available to order, please contact us to discuss your requirements. The Rackbox can be designed to be mounted horizontally or vertically.
Configuration: Power only / USB charging only / Combined Power & USB charging
Insulation: Earthed aluminium casing with fire retardant ABS fascias. As standard a 2000V protective membrane is incorporated to give additional insulation/protection.
Earthing: A rewireable external earth terminal allows the removal/change of earth bonding leads without dismantling the unit.
Fusing: 5 x 20mm 'slo-blo' anti-surge ceramic fuses.
Fuse clips: Colour coded fuse clips (3.15A and 5A) to comply with the fuse marking requirements of BS6396.
Please consider our modular components for the wide range of all power and USB charging outlets available.
Protection: Power cleaner, surge protector, MCB, RCD, RCBO, etc.
The Rackbox fits a 19" 2U rack
Also available for rental, please contact us to discuss your requirements; email hub@fulcrum.uk.com or call +44 (0) 330 330 9901